CT musical genius Daphne Lee Martin brings her music to the masses   By Bill Copeland on August 6, 2014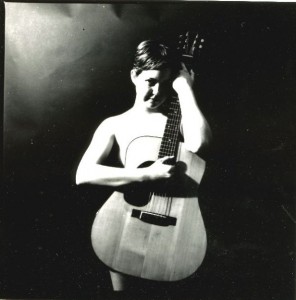 Daphne Lee Martin just might be a musical genius. The New London, Connecticut Chanteuse released two full length albums in a year's time. Moxie, released in 2013, and Frost, released in 2014, are companion pieces. Loaded with every influence from 1920s gypsy jazz, to big band swing elements, to modern electronic experimentations, to Appalachian folk, to jump blues, both albums are the product of a very fertile musical mind. Co-owing a record store with her husband reflects the broad musical vocabulary and tastes Martin carries around in her head. How she developed the skill to mesh these diverse elements into her own unique style requires a closer look at the singer-songwriter-composer-arranger's history.
"I grew up listening to a lot of traditional and folk music, singer-songwriters, folks like Neil Young, Crosby Stills And Nash, James Taylor. A lot of old classic country was played in my house. Dolly Parton was definitely one of my big heroes growing up. People like that and Loretta Lynn." Once Martin got out into the big world, she immersed herself in everything she could find, which culminated in her owning a record store today, Telegraph Records in New London, Connecticut.
"Now, I'm literally surrounded every day by all kinds of different music," she said. "All of which is important to know because I'm always talking to my customers. It's fun to talk to people, learn things you didn't' know."
Her albums Moxie and Frost reflect her diverse interests. Those album titles are based on an experience Martin had in New York City. She was dating an actor/folk musician who paid her an unusual compliment. "He said, 'You know what I like about you? You have moxie, but you also have frost.' Moxie basically meaning chutzpa, spunk, spirit character. And frost being the ability to keep cool under pressure, the ability to roll with the punches."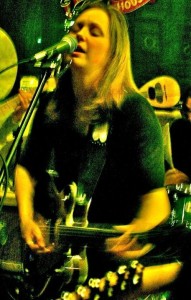 Moxie and Frost, though, are not entirely based on Martin's life experiences. "A lot of it is written from other narrative voices," she said. "I can't live every experience. As much as a writer I would love to know what it's like to live on a safari for a year. I would love to have crazy adventures that inform me the way the books I love to read are informed. To do that, I just kind of bury myself in other people's characters and try to write from their perspectives." For example, Moxie's opening track, "Sweet & Low Down," is written from the point of view of Mehitabel The Cat from the Archie and the Mehitabel books.
Martin and her sister grew up in a very rural part of Ohio where they were home schooled for a good chunk of their education. Martin, her sister, and their mother played a lot of gigs together on the road, beginning when Martin was 14 years old. Until she got on the road, Martin was secluded in her middle of nowhere small town. Listening to oldies radio stations, Martin, her mother had discovered, could sing the harmonies to "We're Going To The Chapel." From there, her mother started teaching her a lot of music.
Martin began playing guitar at age 14. "I think that's when I got the fool notion that I could actually write some music for myself," she said, "and not just play other people's material and traditional material." When asked what kind of material she was writing, she answered: "I was writing pretty straight forward bad teenage diary songs at that point." Giggles.
The singer-songwriter, these days, can be seen, live and in her online pictures, holding a five string banjo while singing into her microphone. She and that instrument are practically a Connecticut music scene cultural icon. Martin has had a life long fascination with the banjo but didn't learn to play one until her husband, a bass player, brought one home from a pawn shop because he thought he could noodle with it. "It was just sitting there, in a corner, just sitting there, just taunting me. Finally, one day, I decided I was going to have a go at it."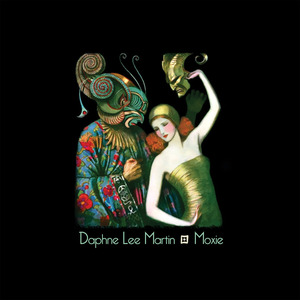 Martin treats it more like a percussive instrument than a melodic instrument, using it as a drum head, as she playfully mentioned. She uses a flat pick even though her five string banjo are usually played with fingers. "It's more of a rhythm section in the song," she said. "It sets the tempo for the rest of the band to play to. I also use the instrument to cue when things are about to change. If you watch my live performances, you'll see the neck of the banjo go up and down right before a movement is going to happen." Her song "Night We Fell In Love" was the first song she wrote when she picked up the banjo. "I tried to play that song on guitar before and I kind of can't," she said. "It just doesn't make any sense. I don't think that I was necessarily looking for that tone as that it found me and the song just happened out of it. Now, I wouldn't know how to do it differently. Sometimes, when you pick up a new instrument, it writes the song for you. For example, a banjo, the fingering positions for the chords are different shapes than the guitar. It's not like you can just pick it up and take your knowledge of the guitar right over to it. You actually have to figure it all out from scratch again. It gets your mind thinking about chord phrasing differently, and all of a sudden something pops out."
Martin treats each instrument as a sound maker, figuring out how it fits into her song, then she figures out how to play it by reading books and watching videos. Martin knew she wanted a Gypsy jazz sound for her song "Molotov" after she heard the tom toms in the Benny Goodman tune "Sing! Sing! Sing!" The only way she could do that was to spend a day watching YouTube videos of Gypsy jazz bands and watching the guitar players' fingers and seeing what chords they typically use, what scales they use, and just making notes. "And then I sat down and 'Molotov' came out," she said.
Martin doesn't like to play solo because she sees music as a social thing. Always preferring to have friends to make music with, Martin likens solo gigs to playing solitaire. Her personal preference stems from her childhood. "Growing up in traditional music, Appalachian music," she said, "that's not a solitary endeavor. That was what people did before there was television. They'd get around the porch or whatever and everybody would bring their instruments and jam."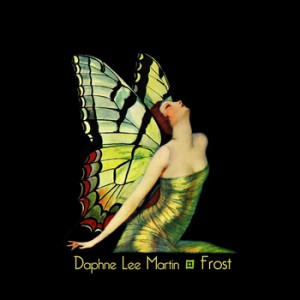 That might explain, somewhat, why Martin's last two albums, Moxie and frost have a strong ensemble feeling all the way through. Not being able to play every instrument her brain hears when she composes, Martin needs to bring in horn players, guitarists, string players, and so forth. "Almost every record I'll ever make will have that feel just because I love all the textures," she said. "It's one thing to play live with a stripped down set, but it's a different thing spending a year making a recording. I feel if you're going to do it, you might as well make it as finished and as full as possible. Now that I say that, I'll probably go record an acoustic record." Laughs playfully.
Martin got the story ideas for her songs on Moxie and Frost by living life, hearing about other peoples' experiences, and all of the books she reads. A song Martin is writing now for an upcoming album is written in the voice of Edie Sedgwick and the other is Brier Rabbit. "It's pop culture," she said. "Literature, poetry, prose, and it comes from conversations with people, little snippets of ideas and words and phrases and feelings about things.
Martin must be doing something right. She is finding audiences far beyond her home state of Connecticut. College radio has been good to her. Sending her last three albums out to colleges all over the United States, she gained 40 to 45 stations for each album, each station adding her music to their shelves and playing her on air. "When I go on tour, I go into the markets where I've been placed on radio," she said. "We have a campaign manager that handles that stuff. They don't get me the gigs. I get the gigs. But, it helps when I go to book a tour like that, it helps them to know I am being played in their market."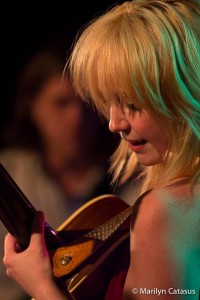 Martin takes on paying gigs. She pays all of her players all of the time because they're professionals. She will play in duos, trios, or a six piece band with horns, if it's doable. The sound will change a little bit, depending on how many people she has with her. "If it's just me and an organ player, it's definitely more in that songwritery feel. Sometimes it's a big jazz band."
Her music goes over well down south and with people who have more of southern sentiment. She describes them as a laid back and quicker to the dance floor than New Englanders. "People up here tend to judge and take stock a little longer than people down south do," she said. "They're a little more ready to get down and enjoy themselves."
Martin used to have a western swing band, Raise The Rent, which released one album before Martin went solo to record Moxie and Frost. That band disintegrated because each member was too busy with other bands and projects. Raise The Rent did manage to release an album called Dig & Be Dug, a country flavored, lush, well-produced record, yet with more guitar, pedal steel and other more country oriented instruments. "It sounds lighter because it's not soaked with organ and everything," she said.
Martin seems ever ready to talk about her songs. Starting with Moxie, she offered some insight into her songs. That album's opening track, "Sweet & Low Down," features an organ sound and a mellotron that her producer Bill Readey suggested. "We started goofing around and he would throw an idea out and I would tweak the idea," she said. "We'd go back and forth until we chased out the part."
Her next song, "Whiskey & Sin," features a guitar that blares like a horn. It was inspired by Gurf Morlix, a national, in demand sideman. "Belly" offers a glimpse into the music Martin is writing now. It has a modern rhythm track and the keyboard is an antique mellotron sample. "It's a detuned funky mellotron in there," she said. "Then there's a mixture of live drums and a sample thing we made. It's complicated. It was a crazy day in the studio too. I felt like we were floating." Martin hired her friend Jimmy Patterson to make a video for the song. Her only instruction was to make something like a James Bond film opening. Patterson came back with something that was made with silhouettes of professional dancers.
"House That Built Itself" found Martin singing into something that makes her voice sound slightly altered. Her friend Thor Jenson, a guitarist from an early Martin band called Roadside Attraction , built an antique telephone microphone. "It's actually an old rotary phone handle with the original diaphragm inside," she said. "He rigged it up so it could be my mic live."
Martin's hit single, "Molotov," was inspired by a tom tom driven beat like the Benny Goodman piece "Sing! Sing! Sing!" Martin's friend Matt Lindauer adds an old time banjo flavor that turns the tune into gypsy jazz.
Her "Faithless Beauty" has a Latin feel and is based on a Tom Waits tune. "Instead of having a junkyard dog feeling, which is what it started out having, I wanted it to feel Latin, almost Cuban," she said. "When I was in the studio, I was sharing the studio with John Panos, trumpet player for Mates Of State. He just happened to be kicking around the studio with us one afternoon while we were working on it, and he had a trumpet with him. We were like 'Let's see what you think of this.' He played his part, and we loved it. Then he doubled the part and did the whole overdub track."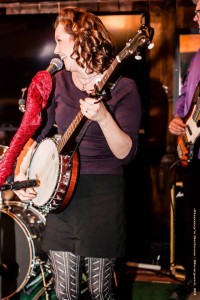 "Whispers" is a more personal song for Martin. The reason Roadside Attraction fell apart was because one member overdosed on heroin and passed away. Another of Martin's friends, at the time, was also using drugs. "It really bothered me that he didn't learn his lesson from losing our friend," she said. "So, 'all your whispers in the dark' is the allure of the drug. And that 'she'll never love you like me' is that the drug will never love you as I love you as a friend and will never take care of you. It will betray you in the end, like it did our friend."
"Friendliest Room In Town" benefits from a pedal steel played by Sandy Allen. "It gives it a ghosty feeling," she said. "Cheers Darlin' is a moodier piece, with a softly tinkled piano line with a whispered vocal melody creating a nice space for its horn line. The song came about when Martin and a friend were sitting around discussing the most difficult subject matter for songwriters: death. "Nobody wants to hear songs about death," she said. "It's scary, dark, and morose. Yet, it's important to talk about and process and that's how we get through things like that. He and I both left that conversation and decided to write music about death and come back and say this is what I did with that conversation. And 'Cheers, Darlin' was my way of tackling the sense of futility of an artist, what you create and what you leave behind when you're gone. I think the subject matter in general demanded it be handled gently."
Moxie closes out with "A Little Bit," a song that was meant to be included on Frost, the next record, which was released earlier this year. The song was inspired by a goofy conversation with a friend about breaking camp and moving to Oregon and starting over in life.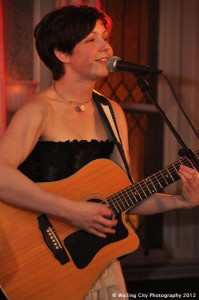 Martin's Frost album is an intriguing companion to Moxie which she released almost a year earlier. Frost opens with the intriguing "Little Birds." Its partly modern sounding with a vocal line from the past. Martin was listening to a lot of Bob Dylan at the time, especially the album Another Side Of Bob Dylan. "I wanted to try to conjure up the kind of poetry that Bob Dylan uses," she said. "I don't know how well I did. I tried. It started out a really slow set, sort of waltz feeling when I was playing it by myself. But, when we introduced the keyboard, it kind of decided to get fast. Sometimes when you add a new instrument, everything changes."
Martin covers "The Book Of Love" by Stephin Merritt of Magnetic Fields. Martin had never intended to put the song on her Frost album She recorded it as a birthday gift for her husband who loved the song so much, he wrote to the band for permission to use that song. "Sure enough, it made the record," Martin said.
"Night We Fell In Love" was inspired by the night Martin and her husband swiftly realized they were meant to be much more than really good friends. That's why a horn suddenly blares. It signifies their realization. "Both of us ended up single right around the same time, and we were both really bummed out, just sad, lonely miserable people. We were hanging out with our friend Liz at a local tavern one night. She was listening to both of us complaining, and she got sick of it. So, she just grabbed both of us by the shoulders, and she smushed us into each other. And, without having to say anything, it just made sense right then and there."
"Make It Rain" sounds a bit like Roomful Of Blues, maybe because Roomful's former trumpet player Danny Motto plays on the song. Its vintage swing blues comes across with great passion. "It's about being fearless. You make mistakes but live with them," Martin said. "It's a tough one. It's an experience that I still have a hard time talking about it."
Martin sings like a 1920s chanteuse on her "More Flies With Honey." She wanted to sound sassy because she was telling the story of her grandfather, a hustler, a gambler, a womanizer, a wild and crazy guy. "If I'm going to tell his story, I've got to put on a little sass."
"Smile At Perfect Strangers" sounds like it could've been on The Great Gatsby soundtrack. Chirpy melodies abound from pizzicato strings. "Actually, that was the producer's idea," she said. "What I had had was the ukulele part, and I really liked the ukulele part. We ended up using tuba on the track instead of bass guitar. And so, it had the nice bouncy, jaunty feeling because of the ukulele and the tuba." The producer also suggested that an initially planned piano line be replace by pizzicato strings.
Martin's "I Still Want You" comes across like a 1970s R&B ballad. "What I wanted was something that kind of made me feel the way that 'Bring It On Home To Me" by Sam Cooke felt." She recorded it as a duet because she likes singing with other people.
The album closes out with "Five Points," a whispery vocal line over swaggering horn and guitar number. That contrast between the subtle voice and bossy instrumentation came about because the way Martin felt about something contrasted with the way she was able to talk about it . "Sometimes you may feel a very strong emotional response to something," she said, "but you can't talk about it like that. You might be angry but you bite your lip. You might be passionate but you don't want to overwhelm the situation. It's almost like the still water runs deep feeling."
Daphne Lee Martin clearly possesses an advanced ability to compose and arrange music. Her range of styles throughout her last two albums is wide but also deep. She fuses all of the traditional and modern instruments and innovations into a cohesive sound all her own. The only thing left to say: Go listen to her music.
Martin will play Luthier's Co-Op in North Hampton, Massachusetts on September 12, Nectar's in Burlington, Vermont on September 13, and The Burren in Somerville, Massachusetts on September 14.